Being a commercial property owner or manager is a tough job. In addition to ensuring the safety and comfort of all the tenants or occupants of your building, you also have to care for the building itself. A crucial part of looking after a commercial space is paying special attention to its facilities and making sure everything is functioning as efficiently as possible, especially the HVAC system.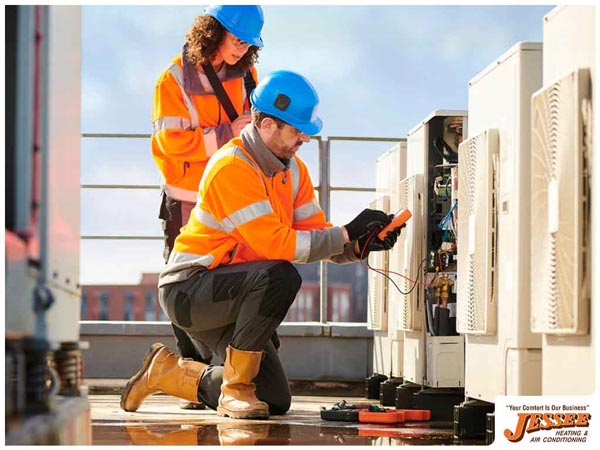 In today's article, your trusted heating and cooling experts at Jessee Heating and Air Conditioning list four energy-wasting commercial HVAC mistakes your business could be making.
Overheating or Overcooling
Setting the temperature too high or too low can compromise the indoor comfort of the building. Warming up or cooling down your commercial space more than necessary can also result in wasted energy, which means higher energy bills for your business.
Skipping Preventive Maintenance
Many building owners seem to be under the impression that HVAC preventive maintenance is a waste of time and money. However, delaying or entirely skipping a preventive maintenance appointment exposes your HVAC system to the risk of major damages that could have been avoided had the problems been discovered when they were still minor.
Not investing in a Smart Thermostat
A programmable thermostat is much more reliable and efficient when it comes to regulating the indoor temperature of your building. A smart thermostat can be set to the desired temperature and then forgotten about. It can even turn down the heating and cooling systems when everyone leaves at the end of the work day.
Delaying Repairs
Your business could lose more money if you delay HVAC repairs, since problems can worsen to the point that a full system replacement is the only solution. Your HVAC system is an investment, and it plays a vital role in keeping your employees and clients comfortable. Taking care of your heating and cooling units properly ensures optimal HVAC performance and lower energy consumption.
You can rely on Jessee Heating and Air Conditioning for the best commercial HVAC products and services. Call us today at (530) 891-4926 to schedule an appointment.